Flannels
Since always an icon of the brand, Albiate 1830 flannels form the basis for versatile, sophisticated and informal aesthetics. Featuring a soft touch, they range from stretch variations to those enriched with Modal fibres, flannels in denim or those made of mélange and neppy yarns.
Different weights: from the lightest, obtained thanks to velvet emerisation, to the heaviest, brushed for a warm touch; these fabrics also lend themselves to dry treatments, the perfect complement to the weaves. And after enhancing the exceptionality of the raw material, the chromatic palette opens in shades of brilliant colours, now blurred or delicate tone on tone effects.
The flannels of Albiate 1830 are therefore ideal for shirts, overshirts, dresses, outerwear and many other possibilities of interpretation, for a casual distinction on every occasion.
FLANNEL: WARM AS WOOL
The flannel is a lightweight, but durable fabric (for the materials used), soft, warm, with structures.
The finishing, the result of the combination of textile tradition and cutting-edge technology, is what makes them really special. Emerising or brushing creates a superficial hairiness that keeps the air in contact with the fabric making it feel warm and soft as wool. For this reason the flannels are perfect for wearing during winter, whilst also maintaining the breathability and naturalness of cotton.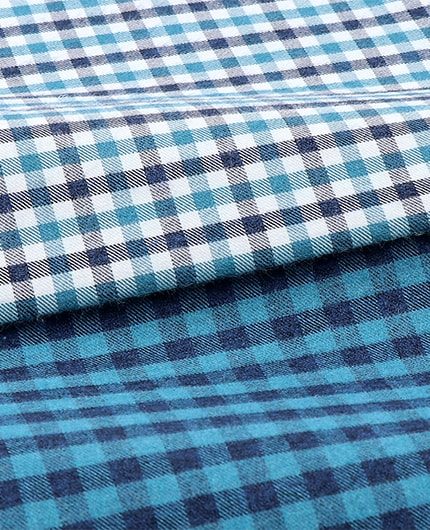 FINISHES
Brushing
The process of brushing gives the fabric a warm and soft touch: machines with metal tips lift the fibres and rotate the brush bringing out a hairy surface. By varying the speed of rotation, the fineness and density of the metal teeth, superficial or deeper brushed effects can be obtained.
Emerising
To give a velvety look to the surface of a fabric, a sanding or emerising process is undertaken during finishing, thus obtaining the surface effect of peach-skin or emerisation.
The difference between the two processes lies in the end result: brushing causes a hairiness generally greater than that of the emerisation.