WHO WE ARE
Albiate 1830 revolutionizes the excellence of light weight fabrics with creativity, knowledge and experimentation
Brand of Albini Group, Albiate 1830 weaves exclusive style stories dedicated to a way of being surprisingly independent and naturally original; the objective is to unveil new and uncontaminated itineraries for contemporary casualwear, in a path of exploration that strengthens the indissoluble bond with emerging fashion trends without losing sight of the exceptional manufacturing tradition that represents the pulsating heart of each textile creation of the brand.
ITALIAN TEXTILE EXPLORERS
Creativity, knowledge, experimentation with details and contrasts: these are the main coordinates that characterise the voyage of research in which Albiate1830 revolutionises the excellence of light weight fabrics. Coordinates in which the profound Italian know-how is enriched with a unique innovative spirit.
An essence that moves the "Italian Textile Explorers" of Albiate 1830, the pioneers of exceptional innovation that becomes the ideal ingredient for shirts and endless other applications including jackets, waistcoats, women's dresses and – in general – for all garments and styles that require an iconic, avant-garde, memorable fabric.
Explore Now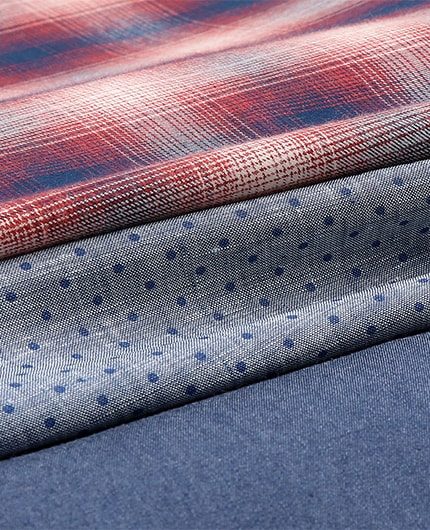 OUR PRODUCT
A reason for being, a destination, and at the same time an indispensable starting point for Albiate 1830's journey of research: our fabrics. The highest interpretation of originality for light weights.
From an impalpable 70g / m2 up to a maximum weight of 250g / m2, over 1000 variations per season offer scenarios – formerly unimaginable – in which excellence meets creativity and innovation. Fabrics that become, in their turn, a new starting point for those who aspire to a sophisticated style that is able to rewrite the rule book.
Explore Now
WHY ALBIATE 1830
Albiate 1830 stands alongside the most prestigious global brands with a dynamic look and synergic sharing, ranging both in the multiplicity and in each single unique item. Analysis and forecasting of trends, selection of the best raw materials, realisation of exclusive products and made to measure services, experimentation and research beyond the borders of the imagination: the soul of Albiate 1830 lives within the collections of its clients to write together the present and the future of fashion.
Explore Now
A LONG HISTORY
Albiate 1830 was founded in 1830 on the initiative of Giuseppe Caprotti, who founded the Manifattura di Albiate as a distributor of yarn to the weavers of the local countryside.
In 1840, the true manufacturing spirit of the brand was affirmed by the implementation of weaving looms with distinctive quality standards, while over the years the vertical integration of all stages of production was completed with the addition of new plants for spinning, dyeing and weaving.
In 2000, Manifattura di Albiate became part of Albini Group, a leading player in the industry with shared values, visions and perspectives. Today, Albiate 1830 leads a path of discovery within the universe of lightweight fabrics, with a strong capacity of productivity and innovative thinking that leads to the creation of revolutionary design concepts within an offer of over 1000 variations per season.