JAPANESE DENIM
Recognised as one of the best in the world for research and tradition, Japanese denim is a mix of craftsmanship, extreme attention to detail, quality and great originality.
Albiate 1830, thanks to the collaboration with a Japanese company, has selected a capsule collection of selvedge denim made in Japan to complete its proposal and offer even more avant-garde fabrics. In fact, if used in an aesthetic way, the selvedge may become a sophisticated detail that embellishes the garments.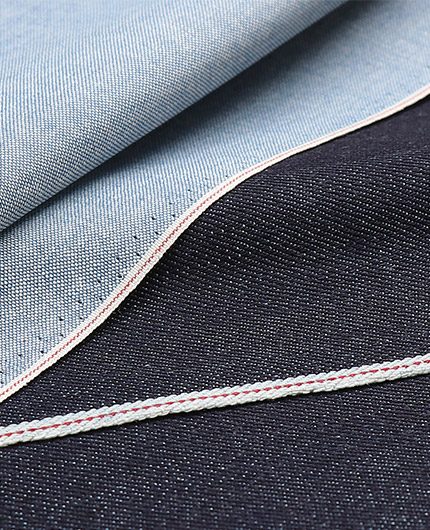 MADE IN JAPAN
The denim story began in the mid 1800's, but Made in Japan denim is more recent and with strong American influences. Thanks to James Dean and his look in the 1955 film "Rebel without a cause", denim has become a "must have" for Japanese young people who were willing to pay high prices to possess one of those garments. The Japanese denim industry was born to respond to this growing demand, and found its headquarters in the city of Kojima. Its point of strength? The water, whose high mineral content and a high pH level, allowed for greater penetration and colour durability during the dyeing process, ideal for producing high quality denim.
TECHNICAL CHARACTERISTICS
But what makes the Japanese denim so famous and precious?
First of all, the thread is made of cotton, with 'ring spun' yarns, which make it possible to have yarns with irregular appearance to obtain light slub-effects that make each fabric unrepeatable.
The dye with natural indigo, also gives the Japanese denim its unique character. It is a complex process that requires great experience, tradition, skill and dexterity to create something exceptional every time.
Another peculiarity of this denim is that it is woven with traditional shuttle looms that work at reduced speed and this produces a very full, highly sought-after and effective result.
Finally, the selvedge, the truly distinctive feature of the Japanese denim, the side of the fabric that prevents fraying. Producing fabrics with selvedges is more expensive, moreover it requires specific weaving looms and great expertise.